Ladies
and gentleman,
Boys and girls,
the depth defying,
electrifying flaming chainsaw of Doom Brings to you,
A never before seen, rare sneak peak
, at the
masterful
,
wonderful and mystifying Promotions list!
The following members have been selected to advance to the next level here at
-[.40 cal ]-
.
Let's give some major congratulations here!!!
Without further adieu, I bring to you the new
Captains
here @
-[.40 cal ]-
-[.40 cal ]-
Vergil ***
-[.40 cal ]-
SS Sparky ***
-[.40 cal ]-
c.ran ***
-[.40 cal ]-
2poor4shoes ***
These guys have shown an incredible level of dedication and are truly
-[.40 cal ]-
to the core. Through their consistent efforts with ban land, keeping our servers clear of punks haters and hackers alike. You guys deserve a major pat on the back and stand out as the finest. You are being promoted to Captain and with it the responsibility and privilege that you deserve.
Thank you once again! Make sure to go directly to the the
3* Captain's Admin School
and complete and sign all required information. You guys are incredible! Please post a shout out in the thank you section for the others members, your new soldiers and our regulars to see.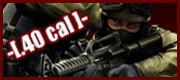 Could this be it for promotions? *Nail biting*
STAY TUNED!!!!!